In this article, the 20 best female musical theater duets are explored with enthusiasm and appreciation. From beloved musicals like Frozen, Jekyll & Hyde, Mean Girls, and Wicked, these duets have captured the hearts of audiences worldwide. Each duet is carefully described, highlighting its significance in the respective musical and the emotional impact it delivers. The list features iconic performances by renowned actresses, showcasing their exceptional talent and vocal prowess. As the article draws to a close, it emphasizes the sheer entertainment value of these duets, inviting readers to immerse themselves in the enchanting harmonies and captivating storytelling that only musical theater can provide.
1. Frozen
'For the First Time in Forever'
'For the First Time in Forever' is a delightful duet from the critically acclaimed musical Frozen. Sung by Anna (played by Kristen Bell) and Elsa (played by Idina Menzel), this enchanting song depicts the contrasting desires of the two sisters. Anna's excitement and eagerness to explore the world outside the palace walls are beautifully showcased in her lively and optimistic verses. On the other hand, Elsa's fear and hesitation, stemming from her magical powers, are hauntingly captured in her haunting solos. This duet symbolizes the sisters' longing for connection and understanding, as well as their journey towards self-discovery and acceptance.
'Love Is an Open Door'
Another captivating duet from Frozen is 'Love Is an Open Door.' Sung by Anna and Hans, this upbeat and romantic song perfectly captures the initial infatuation and excitement that blossoms between the two characters. The catchy melody and playful lyrics highlight their instant connection and shared aspirations. However, as the story progresses, the true nature of Hans is revealed, adding a twist to the song and the overall plot of the musical. This duet showcases the fleeting nature of young love and the importance of discernment in relationships.
2. Jekyll & Hyde
'In His Eyes'
'In His Eyes' is a hauntingly beautiful duet from the thrilling musical Jekyll & Hyde. Sung by Emma Carew and Lucy Harris, this powerful ballad delves into their contrasting perspectives on love and their complex relationships with the protagonist, Dr. Jekyll. Emma, the virtuous and compassionate fiancée of Jekyll, yearns for his affection and understanding. On the other hand, Lucy, a seductive and tormented woman associated with Jekyll's alter ego, expresses her own desire for validation and acceptance. This duet explores the themes of love, duality, and the inner turmoil faced by the characters.
'Sympathy, Tenderness'
Another mesmerizing duet from Jekyll & Hyde is 'Sympathy, Tenderness.' Sung by the character of Lucy Harris and Jekyll's friend John Utterson, this emotional ballad captures the compassion and longing for redemption in Lucy's heart. Her vulnerability and desire for a better life shine through her heartfelt lyrics. Utterson's longing to protect Lucy and save her from her dark past also adds depth to the song. 'Sympathy, Tenderness' beautifully portrays the conflicted emotions and struggles faced by the characters in the dark and mysterious world of Jekyll & Hyde.
3. Mean Girls
'Apex Predator'
'Mean Girls' the musical brings another notable duet titled 'Apex Predator.' Sung by the characters of Regina George and Janis Sarkisian, this powerful song delves into their complex relationship as frenemies. Regina, the popular and manipulative queen bee, showcases her sharp wit and cunning nature through her cutting lyrics. Janis, the outsider seeking revenge, expresses her frustration and determination to bring Regina down. This duet captures the dynamics of power and manipulation in high school hierarchies and serves as an empowering anthem for those who have experienced friendship betrayal.
'What's Wrong With Me?'
'What's Wrong With Me?' is a poignant duet from Mean Girls, sung by the characters of Cady Heron and Damian Hubbard. As Cady navigates the treacherous waters of high school popularity, she begins to question her own identity and the choices she has made. Damian, her loyal and supportive friend, offers comfort and perspective through his heartfelt verses. This duet explores the themes of identity, fitting in, and the pressure to conform in a humorous yet introspective manner. It serves as a relatable anthem for anyone who has ever felt lost or unsure of themselves in the tumultuous years of adolescence.
4. Wicked
'Popular'
'Popular' is a lighthearted and catchy duet from the hit musical Wicked, performed by Galinda (later known as Glinda) and Elphaba. The song showcases Galinda's attempts to transform the socially awkward and misunderstood Elphaba into a popular figure. Galinda's bubbly and comical personality shines through her verses, while Elphaba's rejection of conformity and societal expectations is powerfully conveyed through her responses. 'Popular' celebrates the importance of individuality and self-acceptance, even in the face of societal pressure.
'For Good'
'For Good' is a deeply moving and heartfelt duet sung by Elphaba and Glinda towards the end of Wicked. As the two friends reconcile and reflect on their complex and transformative journey, they express their gratitude for one another and the profound impact they have had on each other's lives. The poignant lyrics and soaring melodies of 'For Good' highlight the themes of friendship, forgiveness, and personal growth. This duet serves as a powerful reminder of the lasting impact that relationships can have on our lives and the potential for positive change.
5. The Phantom of the Opera
'Prima Donna'
'Prima Donna' is an enchanting duet from The Phantom of the Opera, performed by Carlotta and the managers of the opera house. This comedic and spirited song showcases Carlotta's diva-like personality and her demands for the leading role. The managers, meanwhile, desperately try to appease her and maintain control of the opera house. 'Prima Donna' offers a witty and entertaining interlude in the midst of the intense romance and tragedy that unfolds in The Phantom of the Opera.
'Down Once More/Track Down This Murderer'
The epic finale of The Phantom of the Opera features the captivating duet 'Down Once More/Track Down This Murderer.' Christine, the conflicted leading lady, sings alongside the Phantom as they navigate the depths of the hauntingly beautiful underground lair. The duet showcases the Phantom's desperate plea for love and acceptance and Christine's struggle to reconcile her feelings for him with her loyalty to Raoul, her true love. The powerful vocals and emotionally charged lyrics make 'Down Once More/Track Down This Murderer' a standout moment in musical theater history.
6. Les Misérables
'A Heart Full of Love'
'A Heart Full of Love' is a tender and heartfelt duet from Les Misérables. Cosette, the young and innocent daughter of Fantine, expresses her newfound love for Marius, a student involved in the revolution. Marius, in turn, exclaims his own affection for her. Eponine, another key character in the musical, adds a bittersweet undertone to the duet as she silently yearns for Marius. 'A Heart Full of Love' beautifully captures the complexities of love and the intertwining destinies of these three characters amidst the backdrop of political turmoil.
'One Day More'
'One Day More' is an iconic ensemble number from Les Misérables, but it features a powerful duet between Marius and Cosette. As they anticipate their reunion after Marius's involvement in the revolution, they express their longing and excitement for the future. Marius's passionate verses and Cosette's soaring melodies convey their unwavering dedication to each other and their shared hopes for a better tomorrow. 'One Day More' stands as one of the most memorable and emotionally charged duets in musical theater history.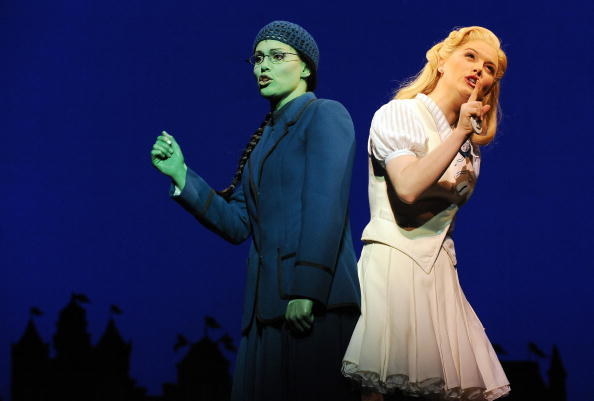 7. Rent
'Take Me or Leave Me'
'Take Me or Leave Me' is a spirited and empowering duet from Rent, performed by Maureen and Joanne. This song captures the fiery dynamics of their tumultuous relationship and their struggle for acceptance and understanding. Maureen, a confident and unconventional performer, demands Joanne's unconditional love and acceptance. Joanne, a strong-willed and practical lawyer, asserts her own desires and boundaries. 'Take Me or Leave Me' showcases the complexity of love and the importance of self-expression and individuality in relationships.
8. Hamilton
'Satisfied'
'Satisfied' is a standout duet from the groundbreaking musical Hamilton, sung by Angelica Schuyler and Alexander Hamilton. As Angelica confesses her deep and unrequited love for Hamilton, she reflects on the choices she made and the sacrifices she had to endure to protect her sister, Eliza, whom Hamilton ultimately marries. The rapid-fire lyrics and poetic wordplay in 'Satisfied' exemplify the complexity and depth of Angelica's emotions. This duet serves as a pivotal moment in the musical, shedding light on the complexities of love, duty, and the consequences of our choices.
'Take a Break'
'Take a Break' is a touching duet from Hamilton that showcases the love and friendship between Hamilton, his wife Eliza, and their son Philip. As Hamilton becomes increasingly consumed by his political ambitions, Eliza longs for his attention and presence in their family life. Their son Philip, unaware of the tensions between his parents, expresses his own aspirations and desire for his father's approval. 'Take a Break' is a heartfelt exploration of the challenges faced by individuals striving for success while balancing their personal relationships.
9. Dear Evan Hansen
'Only Us'
'Only Us' is a tender and heartfelt duet from Dear Evan Hansen, sung by the characters of Evan and Zoe. As Evan navigates the complexities of teenage life and his struggle with mental health, he forms a connection with Zoe, the sister of his late friend Connor. This duet beautifully captures their shared vulnerability and desire for understanding, as they express their longing to find solace and acceptance in each other. 'Only Us' explores the power of human connection and the healing potential of genuine empathy.
'Only Us (Reprise)'
The reprise of 'Only Us' in Dear Evan Hansen serves as a poignant and emotional moment in the musical. As the characters of Evan and Zoe face the consequences of their actions and the truth about Evan's deception is revealed, they come together once again in a bittersweet duet. This reprise highlights the fragility and complexity of relationships, as Evan and Zoe grapple with their shared pain and the fractured trust between them. 'Only Us (Reprise)' serves as a stark reminder of the power of honesty and the need for genuine connection in overcoming adversity.
20. Company
'Side by Side'
'Side by Side' is a delightful and energetic duet from the musical Company. This playful and witty song captures the spirit of friendship and camaraderie as the characters celebrate their togetherness and support for each other. The duet showcases the moments of joy and companionship that arise amidst the hustle and bustle of urban life. 'Side by Side' serves as a joyous anthem for anyone who appreciates the value of deep and lasting friendships.
'Being Alive'
'Being Alive' is a powerful and introspective duet from Company. Sung by the character of Bobby, this poignant song delves into his search for meaning and connection in his relationships. As Bobby contemplates the pros and cons of being in a committed relationship, he expresses his longing for companionship and emotional fulfillment. 'Being Alive' encapsulates the complexities of human emotions and the universal desire for love and genuine connection. This duet serves as a powerful reminder that life's true meaning lies in the relationships we nurture and the connections we create.
In conclusion, these 20 female musical theater duets showcase the incredible talent and artistry of actresses in the industry. Each duet represents a unique story, emotion, and thematic depth within its respective musical. From the captivating melodies of Frozen to the powerful ballads of Les Misérables, these duets offer a diverse range of experiences and emotions.
What sets these duets apart is their ability to entertain and engage audiences while simultaneously touching on universal themes such as love, friendship, identity, and personal growth. The duets allow listeners to connect with the characters and their experiences, evoking a range of emotions from joy and laughter to heartache and introspection.
If you have yet to explore the world of musical theater duets, these 20 selections are an excellent place to start. Their iconic status and enduring popularity stand as a testament to their timeless appeal. So, whether you are a seasoned theater enthusiast or someone new to the genre, take a moment to sit back, relax, and let these incredible duets transport you to the magical world of musical theater.