In this article, titled "15 Famous Singers and Musicians With Perfect Pitch", the author explores the rare talent of perfect pitch and highlights 15 renowned artists who possess this exceptional ability. From Mariah Carey and Mozart to Charlie Puth and Whitney Houston, these singers and musicians have captivated audiences with their impeccable sense of pitch. Whether it's creating beautiful melodies, iconic guitar riffs, or stunning vocal performances, these artists continue to inspire and awe aspiring musicians around the world.
1. Mariah Carey
Five-octave vocal range
Great ear for music
We are starting our list strong with the Songbird Supreme herself, Mariah Carey. The five-octave vocal range that she boasts is one of the many reasons why she is considered to have a perfect pitch along with her great ear for music. She is a music icon with numerous hits that have made their way to the top of the charts throughout her career. Mariah's ability to effortlessly hit high notes and sustain them is truly impressive, and it just goes to show the extent of her vocal control and pitch accuracy. Her distinctive vocal abilities have earned her a special place in the music industry and have inspired countless aspiring singers. Mariah Carey's talent and passion for music shine through in every performance, making her one of the most celebrated singers of our time.
2. Mozart
Child prodigy
Composing music at age seven
Next on the list is a popular musician, Wolfgang Amadeus Mozart. He was a child prodigy who began composing music at the age of seven. Mozart's perfect pitch allowed him to easily identify notes, which helped him create beautiful pieces of music that are still enjoyed by many today. His ability to hear music in his head and translate it into compositions is a testament to his extraordinary talent and impeccable pitch accuracy. Mozart's works showcase a deep understanding of music theory and a mastery of melody, harmony, and form. His compositions continue to be studied and performed by musicians worldwide, solidifying his place as one of the greatest composers in history.
3. Charlie Puth
Suspended in high school for singing fire alarm notes
Did you know that Charlie Puth got suspended in high school once due to his perfect pitch? During an interview with Jimmy Fallon, he shared that he got suspended for singing the notes of a fire alarm, which led to the entire campus going home early. We guess his talents were just too much for his school to handle! Charlie Puth's perfect pitch is evident in his melodic and catchy songs, which often feature impressive vocal runs and harmonies. His ability to effortlessly hit and sustain high notes adds a unique flair to his music. Charlie Puth's story is a reminder that sometimes, even the most extraordinary talents can be misunderstood or unappreciated in certain environments.
4. Karen Carpenter
Angelic voice
Timeless hits
Another iconic singer on the list is Karen Carpenter. She was known for her angelic voice and beautiful melodies. Her perfect pitch helped her create timeless hits such as "We've Only Just Begun" and "Close to You". Karen's ability to effortlessly navigate through different vocal ranges and capture the emotions of a song is a testament to her impeccable pitch accuracy. Her brother, Richard Carpenter, often spoke about Karen's natural talent and how she would always get it right on the first try, despite only hearing a song a few times. Karen Carpenter's voice has left an indelible mark on the music industry, and her songs continue to be cherished by fans worldwide.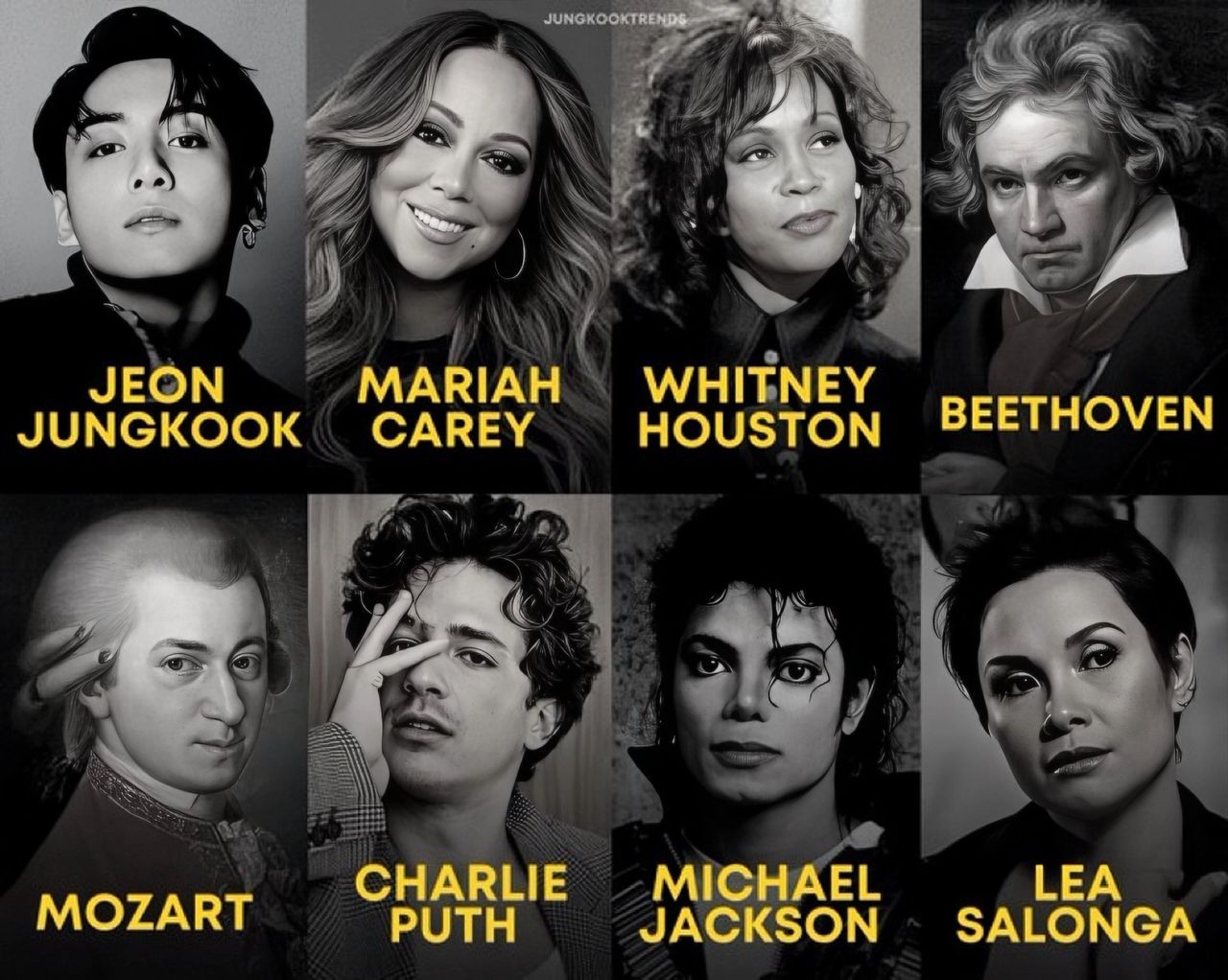 5. Lea Salonga
Role as Kim in Miss Saigon
Singing voice behind Disney Princesses
Lea Salonga is a Filipino singer and actress who is best known for her role as Kim in the hit Broadway musical, Miss Saigon. She was also the singing voice behind two Disney Princesses – Jasmine in Aladdin and Fa Mulan in Mulan. Lea's perfect pitch allows her to effortlessly hit every note with precision and accuracy, bringing her characters to life through her exceptional singing ability. Her crystal-clear tone and remarkable control make her performances truly captivating. Lea Salonga's talent and versatility have earned her a special place in both the theater and film industries, and she continues to inspire aspiring singers with her extraordinary vocal skills.
6. Jimi Hendrix
Greatest guitarist in rock music
Iconic riffs and solos
Jimi Hendrix is one of the greatest guitarists in rock music. His perfect pitch helped him create iconic riffs and solos that are still emulated by many guitarists today. Jimi's ability to effortlessly find and play the right notes, even in complex guitar arrangements, is a testament to his extraordinary pitch accuracy. His innovative playing style and unique sound revolutionized the world of rock music. Jimi Hendrix's technical prowess, combined with his creative approach to music, cemented his status as a guitar legend. His influence can still be heard in the music of countless artists today, making him a true icon of rock and roll.
7. Beethoven
Prolific composer
Ability to tune piano by ear
Another musician who is considered to have a perfect pitch is Ludwig van Beethoven. He was a prolific composer who created some of the most well-known classical pieces such as "Symphony No. 9". Beethoven's perfect pitch allowed him to effortlessly identify and create harmonically rich compositions that continue to be celebrated today. His ability to tune a piano by ear, without the use of an external reference, is a testament to his extraordinary pitch accuracy. Beethoven's compositions showcase his deep understanding of music theory, his mastery of melody and harmony, and his ability to evoke powerful emotions through his music. His works have stood the test of time and continue to inspire musicians and audiences alike.
8. Ella Fitzgerald
First Lady of Song
Influential jazz singer
Ella Fitzgerald is often referred to as the First Lady of Song. She was a highly influential jazz singer who had a beautiful voice and perfect pitch. Ella's ability to effortlessly hit and sustain even the most challenging notes, along with her impeccable sense of timing and phrasing, made her one of the greatest vocalists of all time. Her scat singing and improvisational skills showcased her pitch accuracy and incredible musicality. Ella Fitzgerald's contributions to jazz music continue to be celebrated, and her influence can be heard in the performances of countless singers today. Her remarkable talent and artistry have earned her a permanent place in music history.
9. Whitney Houston
Powerful voice
Ability to sing high notes with ease
Whitney Houston is a legendary singer who is known for her powerful voice and perfect pitch. Her ability to sing high notes with such ease is truly impressive. Whitney's vocal range and agility allowed her to effortlessly navigate through various musical styles and genres, captivating audiences worldwide. Her impeccable pitch accuracy, combined with her emotive delivery, made every performance unforgettable. Whitney Houston's iconic songs, such as "I Will Always Love You", "Saving All My Love for You", and "I Wanna Dance With Somebody (Who Loves Me)", continue to inspire singers and showcase her exceptional talent. Her voice remains a symbol of strength and beauty in the world of music.
Final Thoughts
Rare talent of perfect pitch
Inspiration for aspiring artists
Perfect pitch is a rare talent that only a few people are born with. These 15 singers and musicians have amazed the world with their exceptional abilities. Their innate sense of pitch accuracy, combined with their passion for music, has allowed them to create timeless pieces and leave a lasting impact on the music industry. Mariah Carey, Mozart, Charlie Puth, Karen Carpenter, Lea Salonga, Jimi Hendrix, Beethoven, Ella Fitzgerald, Whitney Houston, and the other talented individuals on this list serve as an inspiration for aspiring artists. They remind us of the beauty and power that comes with having a perfect pitch, and they encourage us to cultivate our own musical abilities and express ourselves through the universal language of music. Whether it's hitting high notes, creating mesmerizing melodies, or captivating audiences with breathtaking performances, these artists have shown us what is possible when perfect pitch meets passion and dedication.