"20 Songs That Start With the Letter E" is a captivating collection of songs that span various genres and time periods. From the iconic "Everybody Wants To Rule The World" by Tears for Fears to the timeless "Earth Song" by Michael Jackson, this compilation showcases a wide range of musical experiences. Each of the featured songs carries its own unique message and theme, delving into topics such as the desire for power, love, dedication, and more. With popular hits like "Every Breath You Take" by Police, "Everybody Hurts" by R.E.M., and "Eye of the Tiger" by Survivor, this list provides a diverse array of songs that are sure to resonate with music lovers of all kinds.
Songs from Various Genres
Welcome to "20 Songs That Start With the Letter E," a collection of songs across different genres and time periods. This compilation brings together a diverse range of music, all starting with the letter E. From pop and rock to soul and R&B, these songs have captivated audiences with their memorable melodies and meaningful lyrics. Let's dive into the world of music and explore these fantastic songs!
1. Everybody Wants To Rule The World
The first song on our list is "Everybody Wants To Rule The World" by Tears for Fears. Released in 1985, this iconic pop hit describes the universal desire for power and control. With its catchy hooks and optimistic sound, it became a massive success, topping charts worldwide. Tears for Fears delivers a message that resonates even today, reminding us of the age-old longing for dominance and influence over others.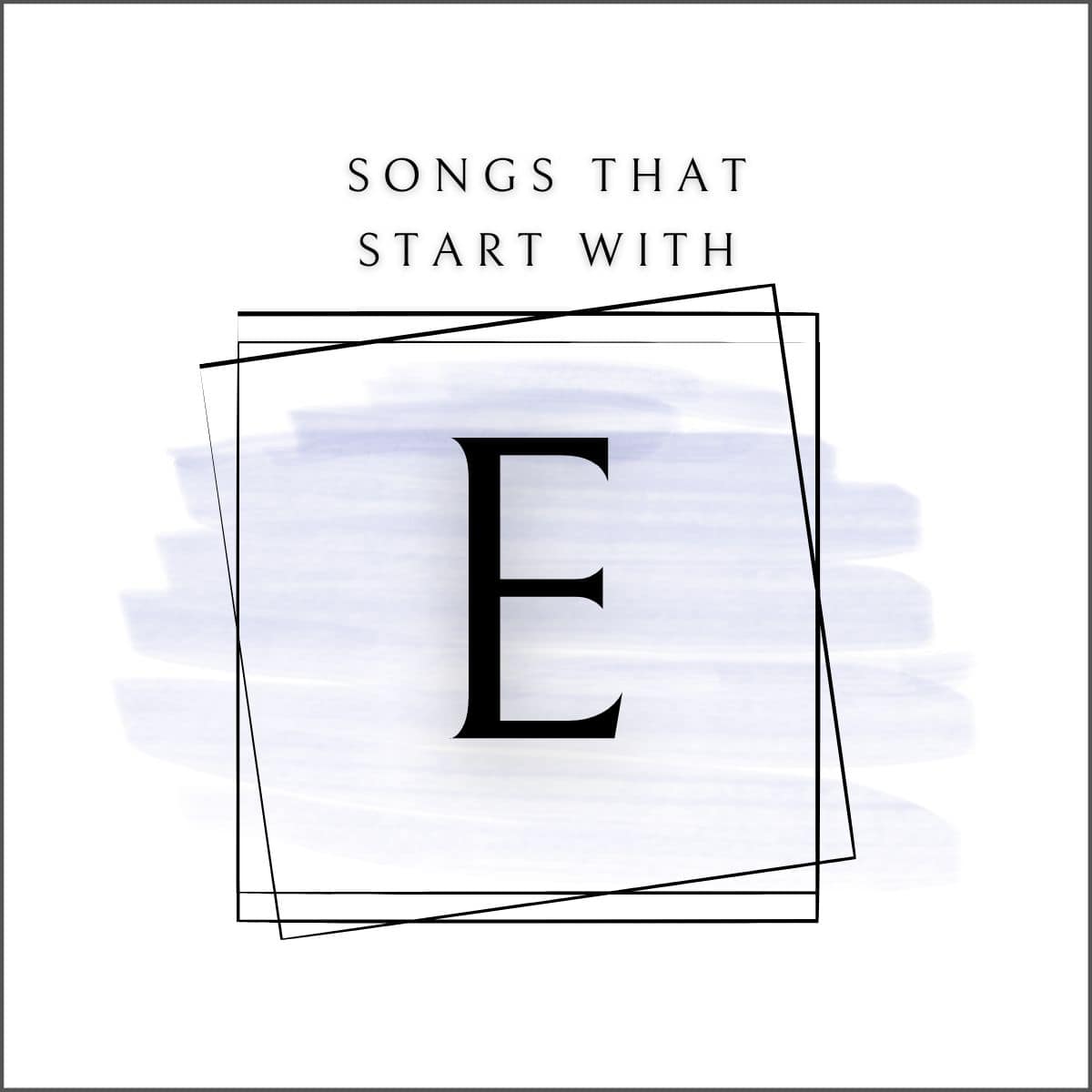 2. Earth Song
Next up is "Earth Song" by Michael Jackson, a powerful ballad released in 1995. This environmentally conscious song delves into the themes of human impact on the planet and the need for unity to heal our Earth. With its emotional lyrics and Jackson's soul-stirring vocals, "Earth Song" became an anthem for environmental awareness. It serves as a reminder to protect and cherish our planet for future generations.
3. Easy
Moving into the realm of smooth R&B, we have "Easy" by Commodores. Released in 1977, this soulful ballad showcases Lionel Richie's velvety vocals and highlights the theme of love and devotion. "Easy" captivated listeners with its mellow melodies and heartfelt lyrics, making it a classic in the genre. It's a song that reminds us of the simplicity and beauty of genuine love.
4. Education
Switching gears to a rock-inspired tune, we have "Education" by The Kinks. This song, released in 1975, tackles the importance of education in society. The Kinks use their signature sound to deliver a powerful message, emphasizing the need for knowledge and critical thinking. With its catchy guitar riffs and thought-provoking lyrics, "Education" serves as a reminder of the transformative power of learning.
5. Every Breath You Take
Stepping back into the realm of pop, we come across "Every Breath You Take" by The Police. Released in 1983, this hauntingly beautiful song explores the darker side of love and obsession. Sting's mesmerizing vocals and the song's distinctive melody have made it one of the most recognizable and enduring hits of all time. "Every Breath You Take" delves into the complexities of relationships, leaving listeners captivated by its emotional depth.
6. Everybody Hurts
R.E.M.'s "Everybody Hurts" takes us on an emotional journey through pain, empathy, and hope. Released in 1992, this heartfelt ballad addresses the struggles we all face and reminds us that we are not alone. With its powerful lyrics and soothing melodies, "Everybody Hurts" became an anthem for solace and understanding, offering a comforting embrace to those in need.
7. Eye of the Tiger
No compilation of songs would be complete without mentioning the timeless anthem "Eye of the Tiger" by Survivor. This energetic rock song, released in 1982, gained widespread popularity as the theme song for the film "Rocky III." With its uplifting lyrics and electrifying guitar riffs, "Eye of the Tiger" became synonymous with determination and never giving up. It continues to motivate listeners to face challenges head-on and overcome obstacles.
8. Eight Days A Week
"Eight Days A Week" by The Beatles is a pop masterpiece that showcases the band's infectious energy and timeless charm. Released in 1964 as a single, this feel-good song celebrates the joys and commitment of a passionate love affair. With its catchy melodies and harmonies, "Eight Days A Week" became yet another hit for The Beatles, solidifying their status as one of the greatest bands in history.
20. Ex's & Oh's
Lastly, we have "Ex's & Oh's" by Elle King, a refreshing blend of rock and blues. Released in 2014, this sassy and empowering anthem explores the complexities of modern relationships. Elle King's powerful vocals and rebellious attitude shine through in this infectious hit, which celebrates independence and self-discovery. "Ex's & Oh's" resonates with listeners, reminding them to embrace their past experiences while confidently moving forward.
In conclusion, "20 Songs That Start With the Letter E" brings together a compilation of songs from various genres and eras. Each song carries its own unique meaning and theme, touching upon universal topics such as power, love, strength, and personal growth. From Tears for Fears and Michael Jackson to The Beatles and Elle King, these artists have left an indelible mark on the music industry with their unforgettable melodies and captivating lyrics. So sit back, press play, and let these songs transport you to a world of emotion, sound, and connection.