This article pays homage to the incredible talent and undeniable impact of 40 famous black female singers in the world. From the iconic voices of Beyonce and Alicia Keys to the soul-stirring melodies of SZA and Normani, these artists have left an indelible mark on the pop music scene. With names like Aretha Franklin, Diana Ross, and Whitney Houston gracing the list, it is evident that these trailblazers have not only achieved tremendous success in their careers but have also paved the way for future generations of artists. From their remarkable achievements to their numerous awards, this article aims to shine a spotlight on their unparalleled contributions to the music industry.
Beyonce
Background and Early Career
Beyonce, born on September 4, 1981, in Houston, Texas, is a global superstar and one of the most influential contemporary artists of our time. From a young age, Beyonce showed immense talent and passion for music, which led her to join the girl group Destiny's Child in the early 1990s. With the group, she achieved massive success, releasing hit after hit and becoming a household name in the R&B and pop music scene.
Solo Success
After Destiny's Child disbanded in 2006, Beyonce embarked on a solo career, leaving an indelible mark on the music industry. Her debut album, "Dangerously in Love," was an instant hit, and the world was captivated by her powerful voice, captivating performances, and empowering lyrics. "Crazy in Love," featuring her then-boyfriend Jay-Z, became a global anthem, solidifying Beyonce's status as a solo artist.
Beyonce's subsequent albums, including "B'Day," "I Am… Sasha Fierce," "4," and "Lemonade," showcased her evolution as an artist, pushing boundaries and experimenting with different musical styles. Her ability to seamlessly blend R&B, pop, hip-hop, and even elements of rock and country has made her a versatile and groundbreaking artist.
Notable Achievements
Beyonce's accolades and achievements throughout her career are awe-inspiring. She has won 28 Grammy Awards, making her one of the most decorated artists in history. Her performances at major events like the Super Bowl halftime show and her own headlining concerts consistently receive critical acclaim. Additionally, Beyonce has been recognized for her philanthropy work, advocating for various causes and using her platform to uplift and empower marginalized communities.
Beyonce's impact extends beyond the music industry. She is seen as a symbol of female empowerment and has been a vocal supporter of the Black Lives Matter movement. Her album "Lemonade" and visual film of the same name sparked important discussions about race, feminism, and identity.
Alicia Keys
Background and Early Career
Alicia Keys, born on January 25, 1981, in New York City, is a talented singer, songwriter, and pianist. Raised in a musical household, Keys began her journey in music at a young age. Her remarkable talent and soulful voice caught the attention of industry professionals, leading to a record deal at the age of 16.
Mainstream Success
In 2001, Alicia Keys released her debut album, "Songs in A Minor." The album's fusion of R&B, soul, and classical influences immediately resonated with audiences worldwide. Hits like "Fallin'" and "A Woman's Worth" showcased her exceptional vocal range and songwriting abilities. The album went on to win five Grammy Awards, including Best New Artist.
Throughout her career, Keys continued to produce memorable music marked by her graceful piano skills and poignant lyrics. Her albums "The Diary of Alicia Keys," "As I Am," and "Girl on Fire" solidified her standing as one of the most successful and respected artists of her generation.
Musical Style
Alicia Keys' musical style is a testament to her versatility and artistry. Whether she's delivering soulful ballads or catchy pop tunes, Keys' emotive voice and impeccable musicality shine through. Her ability to masterfully play the piano while singing sets her apart from many contemporary artists, providing a unique and captivating experience for her listeners.
Keys has always been an advocate for social and political causes. She has used her music as a platform to raise awareness about issues such as women's rights, empowerment, and racial justice. Her songs, such as "Superwoman" and "If I Ain't Got You," have become anthems for resilience and self-acceptance.
SZA
Rise to Stardom
SZA, born Solána Imani Rowe on November 8, 1988, in St. Louis, Missouri, experienced a meteoric rise to fame in the music industry. Despite initially facing setbacks and self-doubt, SZA's unique blend of R&B, soul, and alternative sounds quickly gained attention.
In 2017, her debut studio album, "Ctrl," propelled her into the mainstream spotlight and received critical acclaim. The album's introspective and vulnerable lyrics struck a chord with audiences, addressing themes of love, self-discovery, and mental health. SZA's authenticity and raw emotions resonated with listeners, leading to multiple Grammy nominations and significant chart success.
Hits and Collaborations
SZA's distinctive voice and lyrical storytelling have resulted in several standout hits. Songs such as "Love Galore" featuring Travis Scott and "The Weekend" became anthems of empowerment and explored the complexities of modern relationships.
Collaborations with notable artists like Kendrick Lamar, Isaiah Rashad, and Maroon 5 have further showcased SZA's versatility and artistry. Her ability to seamlessly blend genres, incorporating elements of trap, hip-hop, and neo-soul, has solidified her position as a boundary-pushing artist in the music industry.
Unique Sound
What sets SZA apart is her ability to create a sound that is both contemporary and nostalgic. Her music effortlessly blends elements of classic soul and R&B with modern production techniques, resulting in a sound that is uniquely her own. SZA's ability to navigate between vulnerability and strength in her music has resonated with a diverse fan base, making her one of the most beloved artists of her generation.
SZA's rise to stardom and the success she has achieved speak to her undeniable talent and distinct artistic vision. With her soulful voice and introspective songwriting, SZA continues to captivate audiences and has undoubtedly become a force to be reckoned with in the music industry.
Normani
Breakthrough with Fifth Harmony
Normani, born Normani Kordei Hamilton on May 31, 1996, rose to fame as a member of the girl group Fifth Harmony. Formed on the reality show "The X Factor" in 2012, Fifth Harmony quickly gained a dedicated fan base and achieved massive success with their infectious pop music.
As one of the group's lead vocalists and dancers, Normani's stage presence and undeniable talent made her stand out. Fifth Harmony's hits, such as "Work from Home" and "Worth It," showcased Normani's incredible dancing skills and charismatic personality.
Solo Career
After Fifth Harmony announced their hiatus in 2018, Normani embarked on a solo career, where she truly began to shine as an artist in her own right. She collaborated with artists like Khalid, Sam Smith, and Megan Thee Stallion, releasing hit singles that showcased her versatility and ability to effortlessly blend pop, R&B, and hip-hop influences.
Normani's debut solo single, "Motivation," released in 2019, was a massive success. The song's infectious energy, catchy hooks, and nostalgic '90s-inspired music video cemented Normani as a solo artist to watch. She has since released several other singles and continues to work on her highly anticipated debut album.
Influence and Inspiration
Normani's impact extends beyond her music. She has become a symbol of empowerment and representation for young black women in the music industry. With her powerful performances, fierce dance moves, and unapologetic confidence, Normani inspires fans to embrace their individuality and pursue their dreams.
Not only does Normani draw inspiration from the artists who came before her, such as Beyonce and Janet Jackson, but she also strives to be a trailblazer in her own right. As a black woman in the music industry, she recognizes the importance of using her platform to advocate for diversity and inclusivity.
Normani's remarkable talent, coupled with her dedication to her craft and her unwavering authenticity, sets her apart as an artist to watch. With a promising solo career ahead of her, Normani is poised to make a lasting impact on the music industry.
Doja Cat
Emerging as a Versatile Artist
Doja Cat, born Amala Ratna Zandile Dlamini on October 21, 1995, is a rising star known for her eclectic musical style and infectious personality. Emerging from the depths of the internet, Doja Cat gained a massive following with her unique blend of rap, pop, and R&B.
Doja Cat's early tracks showcased her playful and witty lyricism, and her ability to effortlessly switch between singing and rapping. Her versatility as an artist allowed her to experiment with different genres, incorporating elements of funk, dance-pop, and even rock into her music.
Viral Hits
Doja Cat's breakthrough came with her viral hit single, "Mooo!", which showcased her quirky sense of humor and catchy melodies. The song quickly became an internet sensation, propelling her into the mainstream spotlight. Her debut studio album, "Amala," which included tracks like "Tia Tamera" featuring Rico Nasty, solidified her unique sound and established her as a standout artist.
Since then, Doja Cat has continued to release chart-topping hits, such as "Say So," "Boss B*tch," and "Streets." Her ability to create infectious hooks and memorable melodies, combined with her distinct fashion sense and captivating music videos, has captivated fans around the world.
Artistic Evolution
With each new release, Doja Cat continues to evolve and push the boundaries of her artistry. Her sophomore album, "Hot Pink," showcased a more refined and experimental sound, further establishing Doja Cat as an artist unafraid to take risks. Tracks like "Like That" featuring Gucci Mane and "Rules" dabble in different genres, seamlessly blending rap, pop, and dance influences.
Doja Cat's ability to connect with her audience goes beyond her music. She has cultivated a strong presence on social media platforms, engaging with fans and showcasing her vibrant personality. Her authenticity and willingness to be vulnerable have endeared her to millions of followers, solidifying her status as an artist with staying power.
As Doja Cat's career continues to soar, it is clear that she is here to stay. Her unique blend of genres, infectious energy, and unapologetic individuality make her a refreshing and exciting addition to the music industry.
Janelle Monáe
Blending Genres
Janelle Monáe, born on December 1, 1985, in Kansas City, Kansas, is a visionary artist known for her genre-bending music and incomparable style. With her theatricality and ability to seamlessly blend elements of funk, R&B, pop, and sci-fi, Monáe has created a sound that is entirely her own.
From her debut EP, "Metropolis: Suite I (The Chase)," to her critically acclaimed albums "The ArchAndroid" and "Dirty Computer," Monáe has consistently pushed artistic boundaries. Her music tells a larger story, woven together through compelling concepts like her android alter ego, Cindi Mayweather, and her exploration of identity.
Critically Acclaimed Albums
Janelle Monáe's albums have garnered widespread critical acclaim for their innovation and artistry. "The ArchAndroid," released in 2010, was hailed as a masterpiece and showcased Monáe's ability to create a cohesive narrative through her music. Tracks like "Tightrope" and "Cold War" remain fan favorites to this day.
Her follow-up album, "Dirty Computer," released in 2018, further solidified Monáe's status as a musical and visual visionary. The album explored themes of womanhood, blackness, and sexuality, while still delivering catchy and thought-provoking music. The accompanying short film, also titled "Dirty Computer," received widespread acclaim for its powerful storytelling and stunning visuals.
Activism and Empowerment
Monáe's impact extends beyond her music. As an activist and advocate, she uses her platform to speak out about social and political issues. She has been a vocal supporter of the LGBTQ+ community, advocating for equality and acceptance. Monáe's unapologetic celebration of blackness and her willingness to challenge societal norms have made her an inspirational figure for many.
In addition to her music, Monáe has also made a name for herself in the film industry. She has appeared in critically acclaimed movies such as "Hidden Figures" and "Moonlight," showcasing her range as an artist and actor.
Janelle Monáe's ability to seamlessly blend genres, her thought-provoking concepts, and her unwavering commitment to advocating for marginalized communities make her a true icon in the music industry. Her artistry and activism continue to inspire a new generation of artists and fans alike.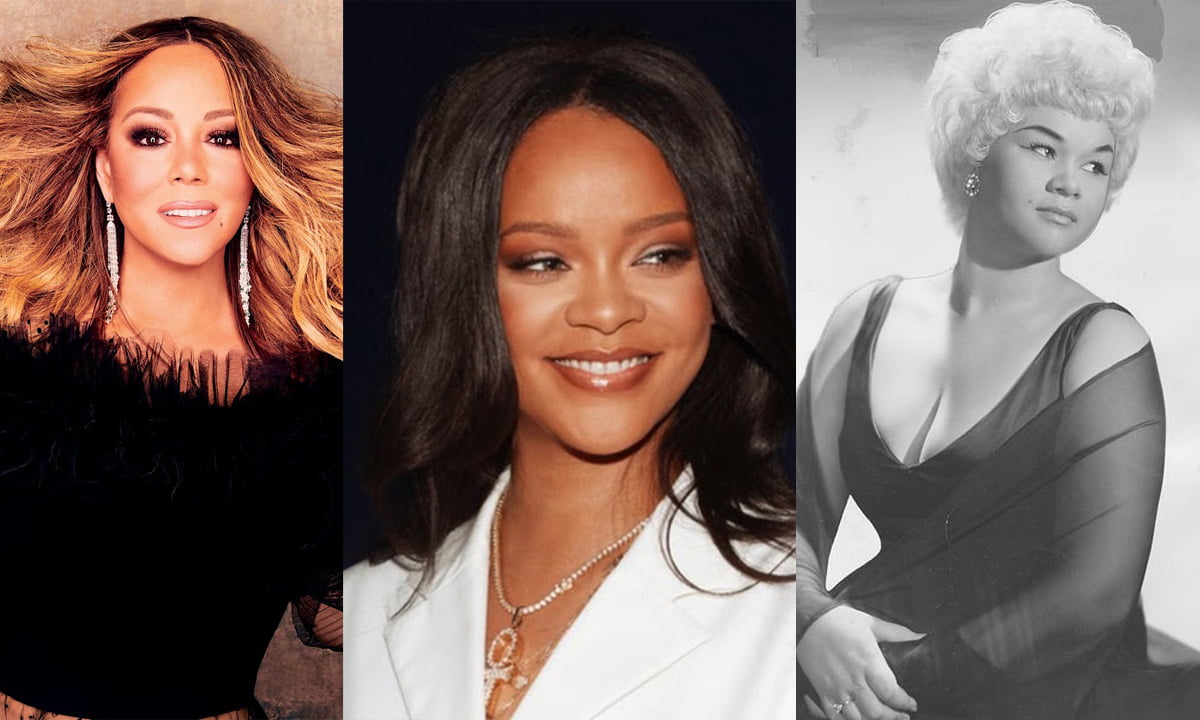 Aretha Franklin
Queen of Soul
Aretha Franklin, born on March 25, 1942, in Memphis, Tennessee, is often referred to as the "Queen of Soul." With her powerhouse vocals, emotional depth, and captivating stage presence, Franklin became a true pioneer in the world of music.
Franklin's career spanned several decades and her impact on soul, gospel, R&B, and pop music cannot be overstated. Her unforgettable performances infused with passion and soul have left an indelible mark on the music industry.
Legendary Voice
Aretha Franklin's voice was a force to be reckoned with. Her ability to effortlessly hit powerful high notes, deliver soulful runs, and infuse each lyric with raw emotion is unparalleled. Hits like "Respect," "Natural Woman," and "Think" became anthems for empowerment and showcased her incredible vocal range.
Her talent was recognized and celebrated throughout her career, earning her 18 Grammy Awards and the distinction of being the first female artist to be inducted into the Rock and Roll Hall of Fame. Franklin's influence extended beyond her music, as she paved the way for future generations of female artists and became an inspiration to countless musicians and fans.
Cultural Impact
Aretha Franklin's impact on American culture cannot be understated. Her music provided a soundtrack for the civil rights movement of the 1960s, with songs like "Respect" becoming anthems for empowerment and liberation. Franklin's success in a predominantly male-dominated industry challenged gender norms and opened doors for female artists.
Furthermore, Franklin's philanthropy work and dedication to social causes solidified her status as an icon of activism. She used her platform to advocate for equality, justice, and the empowerment of marginalized communities. Aretha Franklin's legacy as an artist, activist, and cultural icon will continue to reverberate for generations to come.
Ella Fitzgerald
Jazz Icon
Ella Fitzgerald, born on April 25, 1917, in Newport News, Virginia, is widely regarded as one of the greatest jazz singers of all time. Her smooth and velvety voice, impeccable phrasing, and unparalleled improvisational skills captivated audiences around the world.
Throughout her career, Fitzgerald collaborated with some of the jazz world's most influential musicians, such as Duke Ellington, Louis Armstrong, and Count Basie. Her ability to effortlessly interpret and convey emotions through her music solidified her status as a true jazz icon.
Impeccable Vocal Range
Ella Fitzgerald's vocal range and control were unmatched. Whether she was scatting, delivering breathtaking ballads, or swinging to up-tempo numbers, Fitzgerald's voice captivated listeners. Hits like "Summertime," "Cheek to Cheek," and "Dream a Little Dream of Me" showcased her talent and continue to be cherished by jazz enthusiasts.
Fitzgerald's technical abilities were paired with her innate ability to connect with her audience. Whether performing in intimate jazz clubs or grand concert halls, she had a natural charm and charisma that endeared her to fans around the world.
Legacy and Influence
Ella Fitzgerald's impact extends far beyond her music. As a black woman in the predominantly white and male-dominated world of jazz, she faced many challenges, but her talent and determination allowed her to break down barriers and become a trailblazer for future generations.
Fitzgerald's influence can be heard in the work of countless artists who followed in her footsteps. Her vocal stylings and innovative scatting technique became a blueprint for aspiring jazz singers. Fitzgerald's contributions to American music were recognized with numerous awards, including 14 Grammy Awards, a National Medal of Arts, and a Presidential Medal of Freedom.
Ella Fitzgerald's legacy continues to shine bright, and her influence can still be felt in the world of jazz today. Her timeless recordings and her impact on the music industry make her a true icon and an inspiration to musicians and fans alike.
Mariah Carey
Chart-Topping Success
Mariah Carey, born on March 27, 1969, in Huntington, New York, is a global superstar known for her impressive vocal range, melismatic style, and unprecedented chart success. With an incredible five-octave vocal range, Carey has achieved numerous chart-topping hits and has become one of the best-selling artists of all time.
Since her stunning debut in 1990, Mariah Carey has released a string of record-breaking albums and singles. Her ability to seamlessly blend pop, R&B, and soul has made her a beloved artist across genres. Hits like "Vision of Love," "Hero," and "We Belong Together" showcase Carey's impressive vocal prowess and songwriting skills.
Vocal Prowess
Mariah Carey's voice is an instrument unlike any other. Her ability to effortlessly hit high notes, deliver runs with precision, and convey raw emotions through her singing is a testament to her immense talent. Her whistle register, a rare vocal technique, has become one of her trademark features and has left audiences in awe.
Carey's vocal performances are often characterized by her unmatched control, precision, and emotional depth. Whether she is belting out power ballads or delivering captivating R&B tracks, her voice remains unparalleled and continues to inspire aspiring vocalists.
Songwriting Skills
Mariah Carey's creative talent extends beyond her vocal abilities. She has co-written many of her own songs and has penned chart-topping hits for other artists. Carey's songwriting skills have allowed her to create deeply personal and relatable music, showcasing her vulnerability and storytelling abilities.
Throughout her career, Carey has been recognized for her songwriting contributions, receiving Songwriter of the Year awards and induction into the Songwriters Hall of Fame. Her ability to craft timeless melodies and memorable lyrics has earned her a dedicated fan base and everlasting place in the music industry.
Mariah Carey's chart-topping success, vocal prowess, and songwriting skills have solidified her status as one of the greatest artists of her generation. Her contributions to pop music, her influence on future generations of artists, and her unwavering commitment to her craft make her an icon in the music industry.