Looking to make your workday a little more enjoyable? Look no further than the power of music. This article explores how listening to music can transform your work experience, making it feel less like a chore and more like a personal concert. With a list of 20 songs about work from various genres and decades, you can find the perfect track to set the tone for your day. From motivating anthems like "Work from Home" by Fifth Harmony and "Work" by Rihanna, to rebellious classics like "Take This Job and Shove It" by Johnny Paycheck, these songs cover a range of themes that can resonate with anyone in the workforce. So, whether you're grinding away at a project or dreaming of a day off, these tunes will serve as your motivation and reminders of the importance of hard work.
The Power of Music in the Workplace
In today's fast-paced and demanding work environment, finding ways to enhance mood, relieve stress, and build motivation is crucial. One often overlooked tool in achieving these goals is music. Music has the power to transform our mindset and create a positive atmosphere, setting the tone for a productive workday. Whether you're working from home, in a bustling office, or tackling challenging projects, incorporating music into your work routine can have a profound impact on your overall well-being and performance.
Setting the Tone for Your Workday
Before diving into the specific ways music can benefit us in the workplace, let's first explore how music can set the tone for our workday. Think about the last time you turned on your favorite song during a morning commute or started your day with an energizing playlist. What impact did it have on your mood and mindset? Music has a unique ability to evoke emotions and create a positive ambiance, helping us transition into work mode.
By starting our workday with music, we can establish a positive mindset, enhancing our overall mood and productivity. Whether it's a soothing melody to calm our nerves or an upbeat tempo to boost our energy levels, the right music can truly make a difference in our work experience.
1. Enhancing Mood and Productivity
Music has the incredible power to create a positive atmosphere and uplift our mood, ultimately boosting productivity. When we listen to music we enjoy, our brains release dopamine, a neurotransmitter associated with pleasure and motivation. This surge in dopamine can help us feel happier, more motivated, and ready to tackle any task that comes our way.
In addition to enhancing our mood, music also has the ability to increase our energy levels. Upbeat and lively tunes have a way of getting our blood pumping and can help combat fatigue, especially during long workdays. By incorporating music into our work routine, we can keep our energy levels high and maintain focus throughout the day.
Furthermore, music can improve our concentration and focus. Certain genres, such as classical or instrumental music, have been found to enhance cognitive abilities and improve information retention. These types of music can create a peaceful environment, allowing us to concentrate on our tasks without distractions.
2. Relieving Stress and Anxiety
Workplaces can often be stressful environments, filled with deadlines, pressure, and high expectations. In such situations, music can serve as a powerful tool to relieve stress and reduce anxiety. Listening to calming and soothing music has been shown to have a therapeutic effect on the mind, helping us relax and unwind.
Soft melodies and slow rhythms can trigger the release of endorphins in our brains, which are our body's natural feel-good chemicals. As a result, our stress levels decrease, and we can approach our work with a clearer and calmer mind.
Additionally, music can promote relaxation by helping us shift our focus away from our worries and into the present moment. When we immerse ourselves in our favorite songs, we create a temporary escape from the demands of work, allowing us to recharge and rejuvenate.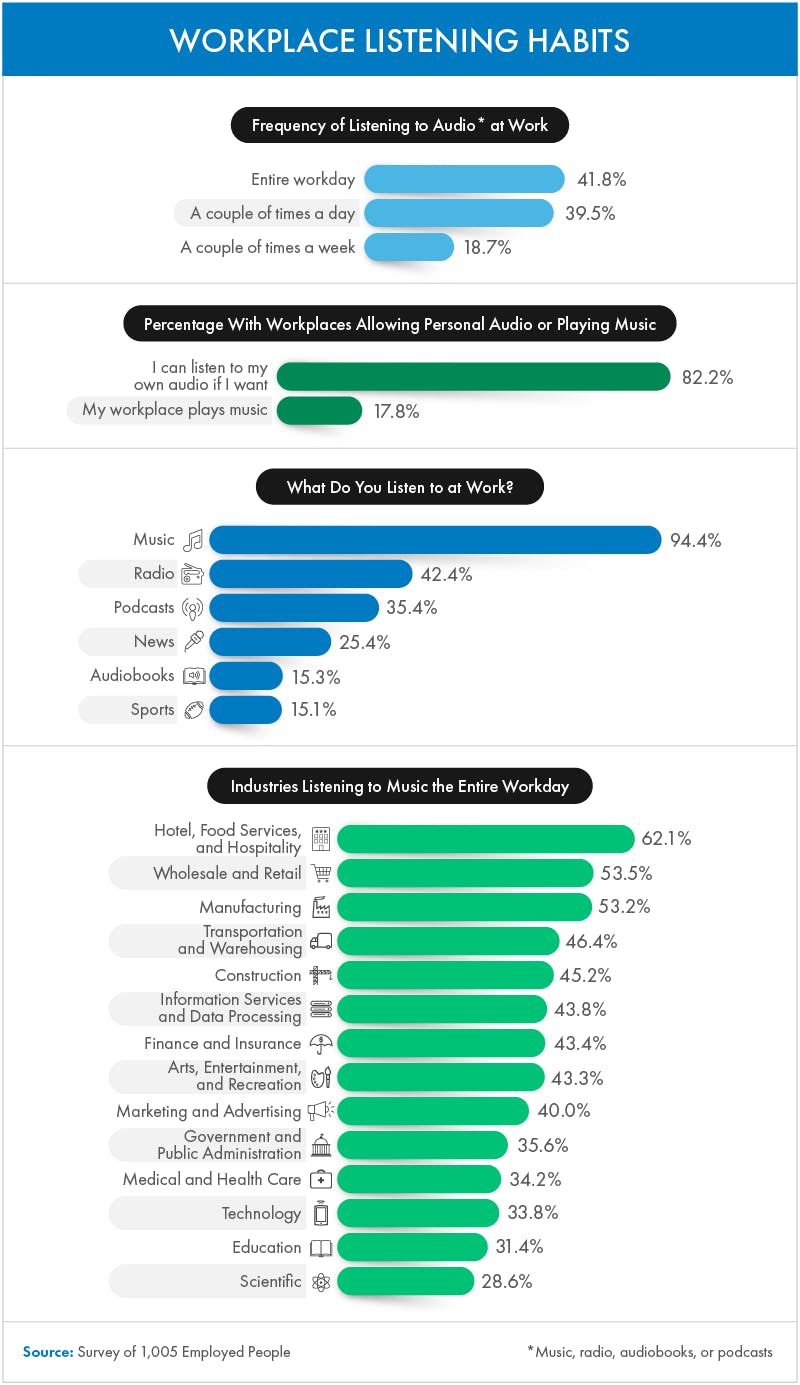 3. Building Motivation and Inspiration
Finding motivation and inspiration in our work can be a challenging task, especially during periods of stress or monotony. However, music has the ability to ignite our creativity, provide a motivational boost, and encourage perseverance and determination.
Certain songs carry powerful messages that resonate with our own experiences and aspirations. They can evoke emotions, remind us of our goals, and reinforce the importance of hard work. By listening to these songs, we can tap into our inner drive and find the inspiration needed to overcome obstacles and achieve success.
Music also has the power to transport us to new worlds and ignite our imagination. By stimulating our senses and evoking emotions, music can help unlock our creative potential. Whether we're brainstorming ideas, working on artistic projects, or seeking innovative solutions, music can serve as a catalyst for creativity and imagination.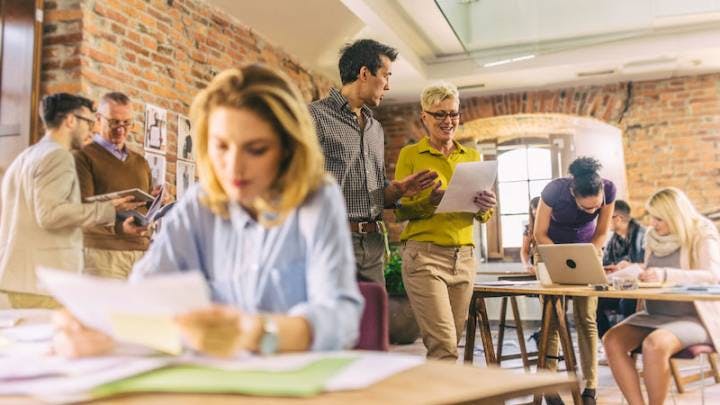 Songs for a Motivational Boost
Now that we have explored the benefits of music in the workplace, let's dive into some songs that can provide us with a motivational boost. This list includes songs from various genres and decades, each carrying its own powerful message about work and perseverance.
1. Work from Home by Fifth Harmony
Artist: Fifth Harmony
Release Date: 2016
Inspiring remote work
Focusing on work-life balance
"Work from Home" by Fifth Harmony is an anthem for the modern workforce. With its catchy melody and empowering lyrics, the song reminds us of the freedom and flexibility that comes with remote work. It encourages us to find a balance between our professional and personal lives, emphasizing the importance of prioritizing our well-being while still being dedicated to our work.
2. Work by Rihanna
Artist: Rihanna
Release Date: 2016
Embracing the concept of hard work
Celebrating success and ambition
Rihanna's "Work" celebrates the value of hard work and the rewards that come with it. The song's catchy beats and energetic rhythm remind us of the dedication and effort required to achieve our goals. It serves as a reminder that success is within reach if we put in the necessary work and remain committed to our ambitions.
3. Take This Job And Shove It by Johnny Paycheck
Artist: Johnny Paycheck
Release Date: 1977
Reflecting frustrations with work
Finding solace and empowerment
Sometimes, work can feel overwhelming, and we may find ourselves longing for a change. Johnny Paycheck's "Take This Job And Shove It" gives a voice to those frustrations and dissatisfaction. While it may not be the most uplifting song on the list, it serves as a reminder that we have the power to make a change if we're unhappy in our current work situation. It can provide solace and empower us to pursue careers that align with our passions and values.
Conclusion
Incorporating music into our workday can be a powerful way to enhance mood, relieve stress, and build motivation. Whether we need a mood boost, a moment of relaxation, or a burst of inspiration, music has the ability to transform our work experience. By choosing songs that resonate with us and reflect our work aspirations, we can create a personalized soundtrack to accompany us on our journey towards success. So, the next time you find yourself in need of some motivation, don't forget to turn up the volume and let the power of music work its magic.