Punjabi singers have been making waves in the music industry in recent years, dominating the charts and captivating audiences worldwide. Coming from humble backgrounds, these talented artists have worked hard to make a name for themselves and their passion for music shines through in their creations. Punjab, the land of talent, has produced a multitude of famous singers who have put India on the global music map. Among the top 10 Punjabi singers are AP Dhillon, Sidhu Moose Wala, Guru Randhawa, Diljit Dosanjh, Badshah, B Praak, Kaka, Hardy Sandhu, Jassi Gill, and Millind Gaba. Each of these artists brings their own unique flair and style to the industry, making their mark with their incredible talent and infectious music. From AP Dhillon's worldwide fame to Sidhu Moose Wala's rise to the top, the Punjabi music scene is buzzing with creativity and innovation.
Introduction
In recent years, Punjabi singers have taken the music industry by storm, dominating charts and captivating audiences around the world. Their talent, hard work, and dedication to their craft have helped put India on the global map of music. In this article, we will explore the background of Punjabi singers, their journey to success, and the impact they have had on the industry. We will also take a closer look at the top 10 Punjabi singers, including their contributions to the music scene. From AP Dhillon to Millind Gaba, each artist has left a significant mark on the industry, showcasing the rich and diverse talent that Punjab has to offer.
Background of Punjabi Singers
Many Punjabi singers come from humble backgrounds, their journeys starting in small villages or towns across Punjab. The culture and traditions of Punjab have deeply influenced their music, making it a reflection of their roots and experiences. Folk music plays a crucial role in Punjab, and its influence can be heard in the melodies, rhythms, and storytelling elements of Punjabi songs. Music is deeply ingrained in Punjabi culture, and it holds a special place in the hearts of its people. From religious ceremonies to celebrations and everyday life, music acts as a means of expression and connection for Punjabis all over the world.
Talent and Hard Work in Punjabi Music
The rise of Punjab's music education has contributed to the talent and dedication showcased by Punjabi singers. Music schools and academies have emerged, providing aspiring musicians with the opportunity to hone their skills and learn from experienced professionals. This focus on music education has helped artists develop their technique, musicality, and understanding of various genres.
Punjabi singers are known for their unwavering dedication to their craft. They spend hours upon hours in the studio, perfecting their vocals, experimenting with different sounds, and fine-tuning their compositions. Their relentless work ethic and commitment to excellence shine through in their music, captivating listeners and garnering international recognition.
In addition to their dedication, Punjabi singers possess remarkable songwriting and composition skills, creating lyrics and melodies that resonate with audiences. Their ability to convey emotion, tell stories, and address societal issues through their music sets them apart as true artists. Moreover, Punjabi singers show great adaptability, effortlessly transitioning between traditional Punjabi folk, Bhangra, hip-hop, pop, and other genres. This versatility allows them to cater to a wide range of listeners and expand their reach globally.
Punjabi Singers Putting India on the Global Map
The success of Punjabi music is not limited to India; it has made waves on the international stage as well. Punjabi artists have achieved tremendous success globally, with their songs being embraced by audiences worldwide. They have not only found acclaim on international platforms but have also collaborated with renowned artists from around the world. This intercultural exchange has promoted Punjabi music and culture on a global scale, bridging gaps and fostering appreciation for its unique sound.
The impact of Punjabi music can also be felt in the Bollywood industry. Many Punjabi singers have successfully transitioned into the Hindi film industry, lending their voices and compositions to blockbuster movies. Their contributions have helped bring Punjabi music to the forefront of Bollywood, enriching its soundtracks and further cementing its significance in the Indian music industry.
Top 10 Punjabi Singers
Now, let's delve into the top 10 Punjabi singers who have left an indelible mark on the industry.
AP Dhillon: The Indo-Canadian Star
AP Dhillon, an Indo-Canadian singer, has taken the Punjabi music scene by storm. With his unique blend of Punjabi and Western influences, he has amassed a massive following worldwide. Tracks like "Brown Munde" and "Excuses" have become viral hits, garnering millions of views and streams on various platforms. AP Dhillon's success is a testament to his exceptional talent and his ability to fuse different musical styles into something truly remarkable.
Sidhu Moose Wala: A Tragic Loss
Sidhu Moose Wala was an iconic figure in the Punjabi music industry. His rise to stardom was rapid, as he quickly became a sensation with his powerful lyrics and distinct style. However, his journey was not without controversies and legal issues. Tragically, Sidhu Moose Wala's life was cut short, leaving a void in the industry that no one can fill. Despite his untimely death, his impact on Punjabi music will forever be remembered.
Guru Randhawa: The Soothing Voice
Known for his soothing voice and soulful songwriting skills, Guru Randhawa has captured the hearts of millions with his melodious tracks. With hits like "Lahore" and "High Rated Gabru," he has become a household name in the Punjabi music industry. Guru's ability to create catchy tunes and relatable lyrics resonates with listeners of all ages, establishing him as a leading figure in the industry.
Diljit Dosanjh: Singer, Actor, Producer
Diljit Dosanjh is a powerhouse when it comes to Punjabi entertainment. Not only is he a talented singer, but he has also ventured into acting and producing. Diljit has delivered groundbreaking records like "Proper Patola" and "Do You Know," which have achieved immense popularity. His versatility and dedication to his craft have solidified his position as one of the most celebrated Punjabi artists.
Badshah: The Powerhouse
Badshah is a force to be reckoned with in the Punjabi music industry. Known for his impeccable music production skills, vibrant energy, and rap prowess, he has made a lasting impact with his tracks. Badshah's collaboration with artists from different genres and his chart-topping hits like "DJ Waley Babu" and "Kar Gayi Chull" have propelled him to great heights.
B Praak: From Viral Hits to Collaborations
B Praak has gained a massive fan base with his viral hits and collaborations. His soulful voice combined with Jaani's exceptional songwriting skills has resulted in some of the most heart-touching tracks in Punjabi music. With songs like "Mann Bharrya" and "Filhall," B Praak has struck a chord with listeners, showcasing his versatility as a singer and his ability to convey complex emotions.
Kaka: Rising Star on the Charts
Kaka is a rising star in the Punjabi music industry, making waves with his heartfelt tracks. Despite being relatively new to the scene, his songs have already made a significant impact on the charts. Kaka's unique style, emotional depth, and relatable lyrics have resonated with listeners, earning him a dedicated fan base.
Hardy Sandhu: From Cricketer to Singer
Hardy Sandhu's journey from being a cricketer to becoming a successful singer is a testament to his dedication and talent. With tracks like "Naah" and "Soch," he has captivated audiences with his melodious voice and romantic ballads. Hardy's versatility as a singer and actor has earned him critical acclaim in both the Punjabi and Hindi film industries.
Jassi Gill: The Handsome Versatile Singer
Jassi Gill is known for his handsome looks, charming personality, and versatile singing ability. From soulful romantic ballads to foot-tapping Bhangra tracks, he effortlessly covers multiple genres. Jassi's hit songs like "Nikle Currant" and "Gabbroo" have garnered him a loyal fan base and established him as one of the most versatile singers in the industry.
Millind Gaba: The Hardworking Artist
Millind Gaba's success can be attributed to his hard work, dedication, and passion for music. With his unique style and energetic performances, he has created a niche for himself in the Punjabi music industry. Millind's hit tracks like "Yaar Mod Do" and "Kala Tikka" have propelled him to fame, showcasing his ability to create catchy tunes and deliver unforgettable performances.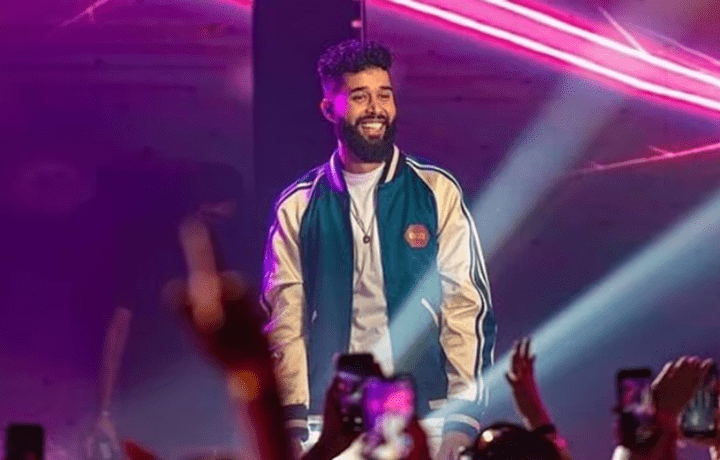 Conclusion
Punjabi singers have not only dominated the music industry in recent years but have also put India on the global talent map. Their talent, hard work, and dedication to their craft have resulted in exceptional music that resonates with audiences worldwide. From AP Dhillon to Millind Gaba, each artist has made a significant contribution to the Punjabi music scene, enriching it with their unique sound and style. With their continued success, they are sure to leave a lasting legacy and inspire future generations of Punjabi artists to follow in their footsteps.